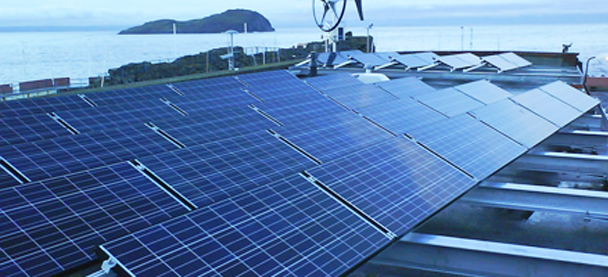 "Solar and Wind Applications were an excellent delivery partner for this amazing project to create a sustainable energy source for the Seabird Centre, and we can't recommend them enough."
MR J Smith, Scottish Seabird Centre
The Problem
Already the winner of a Green Tourism Gold Award, the Seabird Centre wished to be able to meet a significant portion of its electricity needs with clean, green solar energy. Existing Solar energy systems powered their seabird cameras and parking machines – and the next step was the power for the seabird centre itself.
The System We Provided
Solar & Wind Applications was contracted to install 5kWp of solar PV at the Scottish Seabird Centre in North Berwick. We have also installed a digital display monitor that allows the centre's visitors to see how much energy the system is generating and how much CO₂ has been saved as a result.
Environmental Benefits
The Seabird Centre's CO₂ emissions will be reduced by some 1.8 tonnes per year.
Project Funding
Funding was obtained for 50% of the project cost via Phase II of the Low Carbon Buildings Program. Generous support was also received from the Scottish Power Green Energy Trust. For more information about renewable energy funding see www.est.org.uk/schri or call 0800 138 8858.