Testimonials
We believe in making sure every customer gets not only a great installation, but also top-notch service from all of our staff. The below testimonials and feedback are just a handful of the comments we receive from satisfied customers.
We are extremely proud to have many happy customers who would not hesitate to recommend us to any potential customers. We think you would feel the same!
Here are some testimonials and feedback from our customers. We love to hear from you, good or not so good, so that we can ensure that you get what you deserve – a quality installation, carried out professionally.
EST Reviews
For some comments from our customers away from our website, there's also the Energy Saving Trust Installer Finder tool, which has lots of customer reviews of our services.
If you are one of our customers and wish to leave us feedback on the EST system, please have a look here for instructions. Feedback, positive and constructive is all very welcome as we believe it's important that our future customers are as informed as possible when choosing an installer.
Richard and Alison, Strathaven, South Lanarkshire, Scotland
3.135kW Solar PV System
"The process began with a visit from Rod, after a very strong and well informed recommendation. More of an adviser than a salesman, Rod took great care to find the best solution for us – they could have found room for 12 panels and made a bit more money but didn't feel the expense of number 12 would be justified by the small added performance, so we were advised to opt for 11. Then Marty took over. Very clued up and highly committed to renewable energy, he has guided us carefully through and after the installation process – still monitoring our performance and keeping us up to speed. The installation itself was totally painless – efficient, tidy, careful, with Marty and Joe a pleasure to have around. I have absolutely no hesitation in recommending Solar and Wind very strongly. Oh, I nearly forgot to mention, the price was very reasonable too."
Private Client, Beith, Ayrshire, Scotland
Split orientation ~4kW Solar PV System installed by others 2013
Following a new roof being built and covered on their property, this customer contacted us to re-install their arrays on East and West facing pitches.
"Thank you very much for getting the panels up and running again.  It has been a welcome change using a company who actually do things when they say they will and I would recommend you to anyone looking for solar work."
Gillian Jack, West Kilbride, Ayrshire, Scotland
Split orientation ~4kW Solar PV System installed by others 2013
Following a call from the client saying that yield was lower than expected, we carried out investigation and repairs to original installation expected to DOUBLE yield compared to that from installation in 2013. We then followed up with safety/regulation corrections to wiring and switchgear installation.
"I'm happy to go ahead with your further recommendations…I'm just delighted the system is up & running again & performing at its best now, thanks to Solar and Wind Applications." – May 2016
Private Client, Troon, Ayrshire, Scotland
Installed April 2016
5.13kWp Solar PV, Solar Edge, East/West Split Roof Mounted
See Case Study for more information on the system and its design. A good example of why you don't have to have a South facing roof!
"On moving in to our new home, we were keen to reduce our running costs and environmental impact as far as possible. We approached Solar and Wind Applications who expertly guided us through the design process and equipment recommendations. They made it clear that our East and West facing roof was a benefit, as it increases our self consumption savings.
The installation was carried out promptly, neatly and exactly as discussed.  After a few weeks of the system operating since installation this Spring, we've generated almost all of our own daytime electricity. Any excess generation has provided constant hot water too via EMMA.
We are delighted with every element of the process and the performance!"
Private Client, Ayrshire, Scotland
Installed March 2014, comment March 2016
3.71kWp Solar PV, Solar Edge, Roof Mounted
"I thought you would be interested to know that after what you thought may have been an exceptionally good result last year (3575kwh generated = 15% over target), this year, which has been by no means meteorogically brilliant, has yielded 3388kwh and therefore still 9% over target. As you would expect, I am delighted!!"
Mr Ovens, Beattock, Scotland
Installed August 2013
4kW Solar PV with Solar Edge, Ground Mounted
It's not only the installation phase you need to rely on your chosen installer for. Good quality, prompt support for any queries – no matter how large or small –  after your system is up and running is extremely valuable over the many years of system life. We endeavour to provide complete peace of mind when it comes to after sales. Extract below is from an email several months after the installation took place.
"Thanks for your enthusiastic interest…Your quality of technical support deserves an award – best in Scotland!"
Private Client, Dumfries, Scotland
Installed June 2013
4kW Solar PV with Solar Edge 
"To help us to maximise the return on our investment, Solar and Wind Applications provided two schemes for our consideration.  The completeness of the presentation enabled us to select this solution, which although requiring more sophisticated and costly control circuitry, provided a higher electrical output and a shorter payback period. The installation and workmanship also satisfied this pedantic construction professional."
Mr Reid, Private Client, York, England
Installed March 2013
EMMA SP15
"I am just sending a quick email to say, "thank you to Rob and Jamie", for doing a smashing job fitting an EMMA unit at our home in York. It would be difficult to find two nicer guys to invite into our home.
Even with very low levels of power production today, being overcast and rainy, we are seeing the benefits already with small inputs to the immersion heater raising the temperature significantly. I am looking forward to using more of "my electricity" without having to operate the immersion manually, as I have until now, and seeing the efficiency benefits expected from the EMMA unit."
SCube Owner, UK
Some feedback from one of our SCube owners:
"…we have one of your excellent SCube solar science sets, which is useful to demonstrate microgeneration to schoolkids on our community activities. We receive a lot of educational products and of course, in recent times, renewable energy has been a big theme for us. To my mind, this is the most comprehensive (and I have to say beautifully designed) packages I've seen. I really can't think of anything I'd add to it (except another S-Cube!)."
Private Client, Scottish Borders
Installed July 2010-2012
Proven 6kW Wind Turbine with 1 x EMMA SP15/30 and 1 x EMMA SP15/45
This customer, whose site you can read more about in a case study made the following comments on completion of our works.
"I have instructed Solar and Wind Applications to handle 2 of my larger renewable technology investment projects in 2010 and 2012 and have great confidence in the integrity, conscientious and thoughtful approach and balanced judgment applied to these innovative designs. Having recommended their work to others, I was pleased to hear in return the same comments on their attention to detail, quality of work and diligence that makes using Solar and Wind Applications a pleasure as well as an excellent business contract partner. I would be happy to recommend them for renewable energy projects and designs."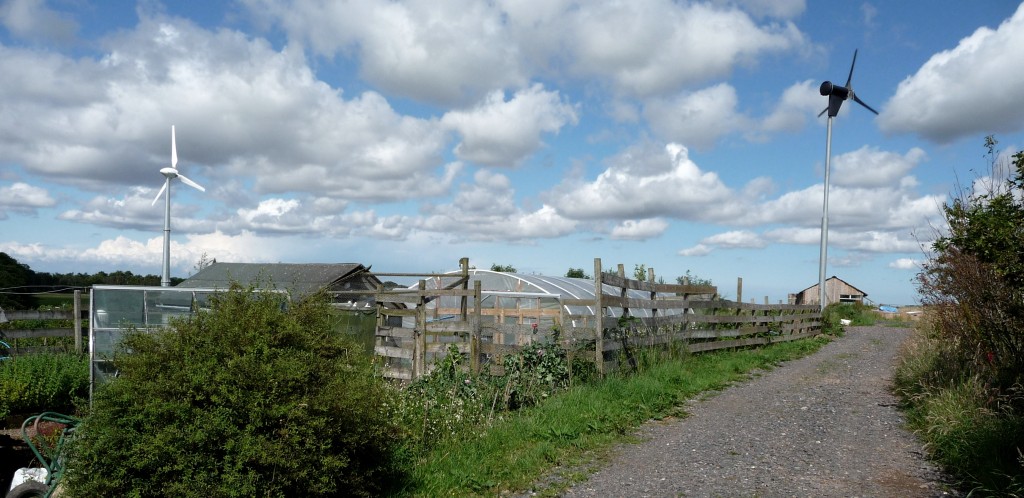 Customer's Wind Turbines – 1 x Evoco and 1 x Proven 6kW
Mr Smellie, Private Client, Nairn, Scotland
Installed July 2011
Solar PV system and EMMA SP15
"From one very satisfied customer, to Rod, Marty, Christine and all personnel at Solar & Wind App. who have work in my houses, thanks you to all. Everything appears to be working well, Just need some sun."
Mr P, Private Client, Borders, Scotland
Installed July 2012
3.92kWp Solar PV system
The below comments are an excerpt from an extremely pleased customer…the rest of the message was equally complimentary.
"(I thought I would)…drop you a quick note to commend both the professionalism of you and your business for any future enquiries and confirm that I would be delighted to act as a referee to any prospective clients.
I would also like to add that amongst a field of four companies interviewed and who all attended the site here at our home, your honest and objective response to all my queries…was a breath of fresh air…outlining the best cost and process evaluation for us as if you had been doing so for a family member of your own!
Your site team of three led formidably by Joe were courteous and efficient at all times making time through the installation to ensure I understood what they were doing and how to both operate and read the system outputs."
Mr H, Private Client. Ayrshire, Scotland.
Installed June 2012
3.87kWp Solar PV system
Just a brief note to say how delighted we were with the PV installation. From start to finish you and your staff have been first class and we cant fault any aspect of the contract.
Mr Aylott, Private Client. Perth, Scotland.
Installation between March 2009 and November 2011
3.84kWp Solar Photovoltaic System
12kW Danfoss DHP-H Ground Source Heat Pump
Proven Energy 15kW Wind Turbine
So many thanks again to you, Rod and all the team who kept smiling throughout in appalling conditions. Well beyond the call of duty.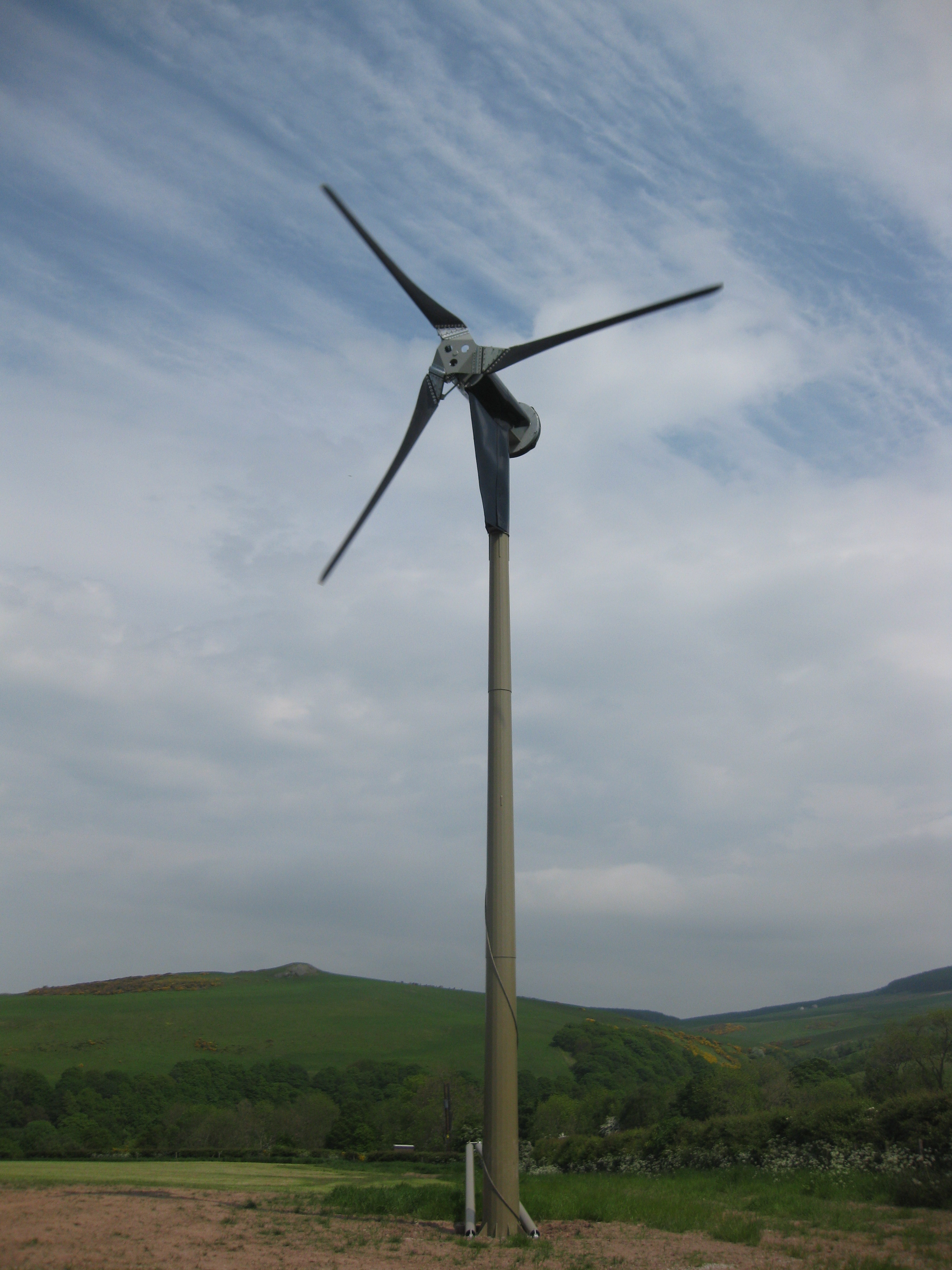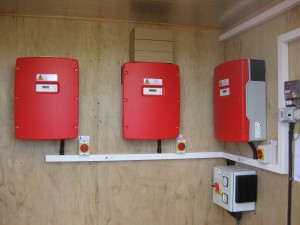 Mr Aylott's 15kW Wind Turbine and switchgear
Mr Bryden, Private Client. Sorn, Ayrshire, Scotland.
Installed October 2011
3.84kWp Solar Photovoltaic System
Yesterday your team installed my photovoltaic solar panels. Today Mr Fox arrived and went through the system with me. I want to say thank you to everyone involved. They have all been very helpful, courteous and professional.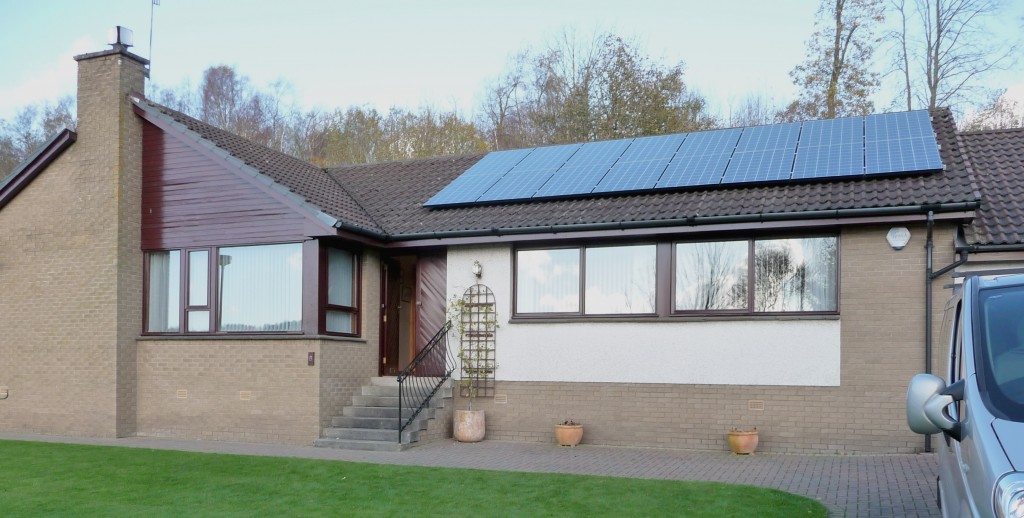 Mr Bryden's Solar PV System
Mr Burnett, Private Client. Straiton, Ayrshire, Scotland.
Installed August 2011
3.01kWp Solar Photovoltaic System
…Finally, thanks again for the professional way all of your personnel have dealt with my initial enquiries and throughout the installation process. Top class in all respects.
Mr Wilson, Private Client. Cardross, Scotland.
Installed August 2011
3.84kWp Solar Photovoltaic System
Dear Rod/Christine, …the service that you offer of dealing with the energy supplier (to apply for FIT and Grid connection) on behalf of your customer is the most important part of this project for me, and I would suspect many of your future customers. Thank you for doing this.
Mr and Mrs Burton, Private Client. Acharacle, Scotland.
Installed October 2010
3.87kWp Solar Photovoltaic System
Dear Rod, This is just a quick note to say "thank you" particularly to the "A-Team". Joe, Rikky and Kevin worked in atrocious weather conditions to complete the job.
Mr Davis, Private Client. Campbeltown, Scotland.
Installed August 2010
2.15kWp Solar Photovoltaic System
Rod, I would like to convey my sincere thanks for your attention over the months and guidance pointing me in the right direction to obtaining relevent grant etc… Furthermore I would like to convey my thanks to Marty and the guys for the installation itself. They are a credit to both themselves and your company…
Mrs Barry, Private Client. Glasgow, Scotland.
Installed August 2010
2.58kWp Solar Photovoltaic System
Rod, Thank you so much for all your consideration and guidance… Your team of installers were most considerate, unobtrusive and delightful and obviously work very well together.
Sir Robert Smith (Chairman of Scottish and Southern Energy). Peebles, Scotland.
Installed February 2008
2.5kW Proven Wind Turbine and 2kWp Solar Photovoltaic System
Sir Robert sent this letter of thanks to Solar and Wind Applications following the successful installation of a wind turbine and solar PV generation system. Sir Robert was also very impressed by our S-Cube solar science set.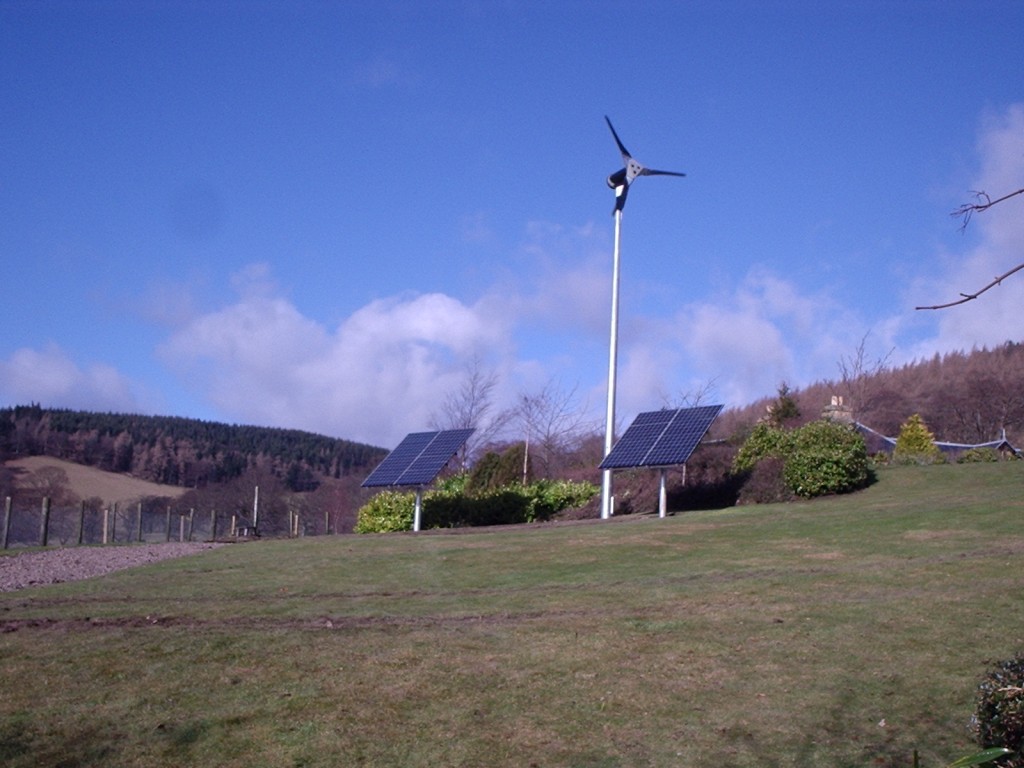 Sir Robert's system
Mrs Jamieson, private client. Isle of Islay, Scotland.
Installed April 2008
2.5kW Proven Wind Turbine
"I have the highest regard for you and your team. I was kept informed through every step of the procedure. I also have to thank Richard at your Roslin office, as he was my first contact and proved extremely helpful both to me and also John on Islay who was to do the groundwork. On the 'great' day of the final installation, the weather was bitterly cold, but the boys did an extremely professional job and the turbine was up in a matter of hours. Pass my thanks and regards to Christine for her help too.
I won't hesitate to recommend Solar and Wind Applications to all and sundry should anyone wish to join me in a small way towards helping the environment."

Mrs Jamieson's wind turbine
Mr and Mrs John Ault, private clients. Near Cumnock, Scotland.
Installed November 2007
5kW NIBE Ground Source Heat Pump
6kW Proven Energy Wind Turbine
"Would you prefer to heat your house without expensive Gas or Oil costs? Why not consider installing a ground source heat pump using thermal energy from underground, I did. One was installed by Solar and Wind Applications Ltd in a newbuild constructed by me in November 07; the house was warm with an even temperature during the winter 07/08. We are both delighted with the system."
Mr & Mrs Pham, private clients. Scottish Borders.
Installed May 2008
8kW NIBE Ground Source Heat Pump
"Of all the many alternative energy consultants and contractors we have investigated over the past four years, Solar and Wind Applications has shown themselves to be the most knowledgeable, professional, effective and courteous organisation we have encountered. Our geothermal system has been installed with the minimum of disruption and according to programme."
Mr David Gaw, private client. Port William, Scotland.
Installed July 2007
6kW Proven Wind Turbine
"Dear Rod, just a note to say how pleased I am with the 6kW turbine which you installed on the 2nd July 2007. The turbine has produced 15,550 units of electricity in the year to 2nd July 2008. As my house is heated with a ground source heat pump and the turbine is producing all required electricity, I have no energy bills. A well satisfied customer!
Best regards David."
Mrs Dora Elliot, private client. Edinburgh, Scotland.
Installed January 2006
1.5kWp Solar Photovoltaic System
"Having solar PV panels installed on my roof, as well as helping to cover up my carbon footprint, has been a great adventure–like having a new, very expensive, educational toy. This experience has been enhanced by the great interest, coordination with the planning department and vital on going support provided by Richard. I feel really fortunate that I chose Solar and Wind Applications as my installer back in 2005."
01292 591 000
Or Request a Call Back: