We were delighted to have this achievement brought to our attention recently. Solar and Wind Applications Ltd have had a growth spurt, appearing at number 26 of the 50 fastest growing companies  in Scotland of 2011, according to personalbest.co.uk.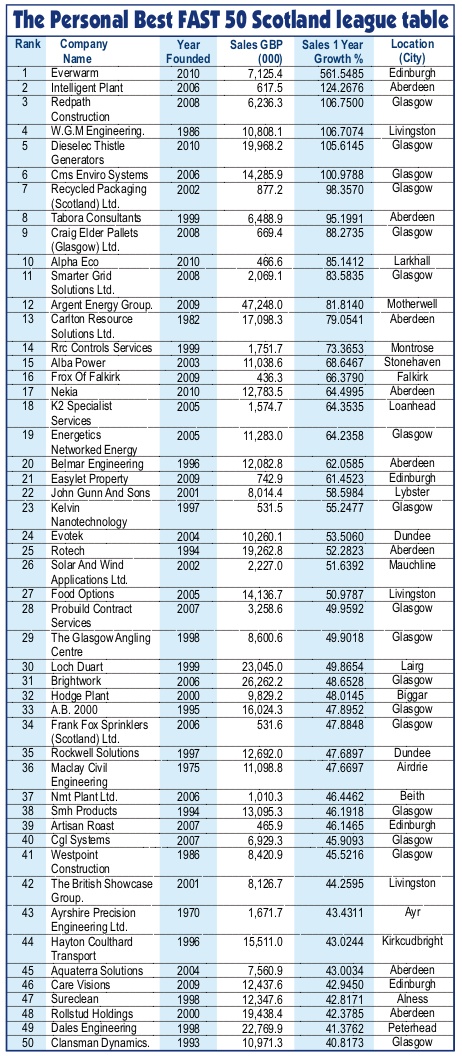 The survey is based on sales growth between 2010 and 2011, and we achieved a growth of 51.6%.
The list contains a lot of energy related companies, however we are the only renewable energy installation company. Quite remarkable knowing the number of new start businesses in 2010 who had a start from 0! With the introduction of the feed in tariff (FiT) scheme, we were able to expand the Solar PV installation side of our business allowing more systems to be designed and installed.
Whilst this expansion speeded up proceedings, we did not deviate from our policy to provide an honest and friendly approach to installing our systems. We did not employ sales personnel, nor did we subcontract, allowing us to ensure that all of our customers received the top notch treatment they deserve. This resulted in more work being referred from happy customers…and it all escalated from there!
Helping things along were our nomination as Energy Saving Trust Preferred Installer and our unique position to install EMMA, both setting us apart from our competitors.
Solar and Wind Applications have continued to thrive since changes in the FiT, always ensuring we maintain absolute customer satisfaction, and always ensuring we can offer high quality equipment at great prices.
Get in touch to find out how you can join in with our many happy customers!