Currently working on a large project on behalf of DECC and a major energy supplier, we are installing large volumes of Coolpower's EMMA on existing solar PV systems. Whether you are interested in the (Energy and Microgenerator MAnager) EMMA for Solar PV or Wind Turbine system, the Coolpower device is the ultimate solution.
This device is the only one on the market which is fully tested and has been awarded CE marking, and is Patented, too.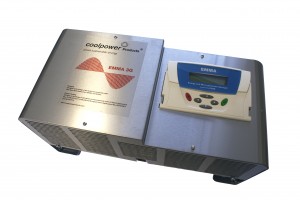 The recipients of the have all been delighted with the equipment, meaning they are now getting even more out of their already installed solar PV system.  They are getting all of their required hot water from the excess solar power which would usually be exported whilst they are out at work, meaning they are saving on gas/oil/electricity which they would usually use to heat the water.
Not only are they pleased with the product, but our installation teams are delighting customers with the polite, knowledgeable, and professional  manner in which the work is carried out.
Read more about EMMA to see if it would work as part of your generation system!