4kW Solar PV System
A 4kW Solar PV system is the most common "domestic" installation size, yielding the highest returns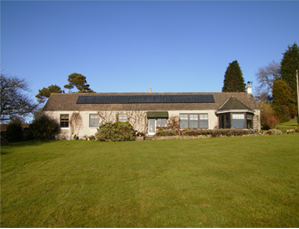 At Solar and Wind Applications we design every system for you from ground up. When we meet you we'll discuss all the options which are suitable for you so that you can make an informed decision.
We believe that a Solar PV system is only as good as its design – a "package" solution is not always the best way to make sure you get the best finished installation.
Typical 4kW Solar PV System – Key Facts
16 Solar Photovoltaic Panels
Generates ~3,430kWh per year
Can be roof or ground mounted
Returns around £150 per year via the Feed-in Tariff »
Additional savings of around £250 on your electricity bills by using the power as it is generated
A 4kW Solar PV system is perfect if you have enough roof space (or unshaded garden space for a ground mounted array) and want to achieve the largest returns and biggest energy savings. Our 4kW systems can be made up from a selection of inverters from SMA, Fronius to SolarEdge and modules from a number of top manufacturers all designed by us to ensure the highest performance system you can get.
When combined with EMMA or Bluesine Stack battery storage, this solution can also provide most of your hot water or non generation time electricity  respectively too, meaning further savings! Please give us a call or get in touch using the contact form on the website and we will be happy to get your installation journey started!
01292 591 000
Or Request a Call Back: