Battery Storage – Tesla Powerwall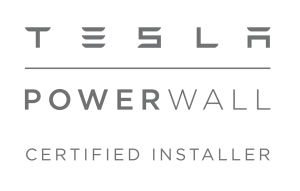 Solar and Wind Applications are Certified Installers of Tesla Powerwall 2 Home Battery. We can install alongside new installations or retrofit all over Scotland.
This is one of the many Lithium based battery products on the marked, and certainly one of the most attractive for several reasons. Not least its aesthetics!
The use of a grid connected battery system like this can significantly increase your consumption of your own, clean energy and in turn reduce the requirement to import from the grid.
Why Tesla Powerwall 2?

In our opinion, Tesla Powerwall 2 is suitable in many instances due to a combination of:
Its usable capacity – 13.5kWh
Its continuous power for both charge and discharge – 3.68kW (5kW if grid connection permissions allow)
Possibility to install outdoors
Its warranty – 10 years, 80% retention
Backup functionality
Its good looks, if you care for that sort of thing!
Its value for money – despite its premium appearance and specification, its cost per kWh installed is among the best value available!
The size and type of generator being used to charge and the nature of your electricity use are fundamental to making sure the technology is suitable, and in choosing a system with appropriate characteristics. The specification of Tesla prove favourable in many cases because of capacity and power. It's also possible to use up to 9 Powerwall 2 units to increase capacity simply if required.
Technical Specification
Usable Energy – 13.5kWh
Power (charge and discharge) continuous – 5kW (where grid permission allows, or capped to 3.68kW)
Round Trip Efficiency >90%
Warranty – 10 years regardless of usage pattern, at least 80% capacity remaining
Weight – 114kg
Dimensions – 1150mm x 755mm x 147mm
Floor or Wall mounted (recommended floor mounted), internally or externally
or for more please see the datasheet here.
How to get one?
Be patient! This technology is extremely dependant on your site and scenario, so best to get in touch if you're interested and we'll guide you along the way and ensure you get a suitable system for your needs.
A good place to start is by reading the RECC/BRE guidance document on battery storage, as it covers a lot of the important factors in deciding if it's appropriate for you.
01292 591 000
Or Request a Call Back: