EMMA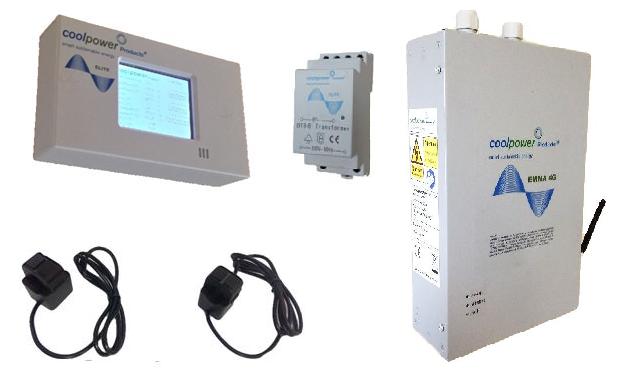 Solar and Wind Applications Ltd are the Main Distributor in Scotland for EMMA (Energy and Microgenerator MAnager) which is manufactured by Coolpower Products.  We are able to offer the unit for various renewable energy applications including solar PV installations, wind turbines and hydro turbines. There are many ways that the system can be implemented and we can most likely provide a solution for your system!
The same Elite base system now also works on its own as a really great monitoring system, or seamlessly with the Bluesine Stack battery storage system, making it the complete solution for self consumption.
EMMA ensures all of the power that your system (e.g. solar panels, wind turbine) is generating gets used within your property and stops it being 'wasted' by exporting to the grid. The system monitors the flow of electricity from the micro-generator as well as what is being consumed in the property so it only uses the excess power generated and feeds that to a heater, or ideally an immersion heater in your hot water tank. Using this excess power to heat your water will reduce the amount that you have to run your boiler, for example, which can lead to big savings.
In most cases without the EMMA, it is estimated that around 50% of the generated power is exported, so why not put this excess power to work. As long as you have a hot water tank and an immersion heater, installation is usually very straightforward.
This system can be used in place of solar thermal – it works better during the winter AND the cost is far less than that of a solar thermal installation!
If you would like more information about the EMMA please see Coolpower Products website and if you would like to install the unit with a new generator OR retrofit to your existing generator, please contact us.
EMMA Systems can be scaled up as required for your needs, to either make use of excess generated power on your site, or to limit export to the grid as requested by the DNO.

Bespoke systems have been installed and are running in various modes for sizes from 3kW up to >100kW, making complete use of power generated for a multitude of purposes – from domestic hot water, to hot water for industrial/farm use, to running drying systems.
As these projects are all unique, having many different requirements, it is important that a complete overview of the situation is gained at the early stages.
If you already have an installation, or are proposing an installation then we can provide complete design, supply, installation and commissioning service for all shapes and sizes of EMMA systems. Get in touch to get started!
What is EMMA?
EMMA (Energy and Micro-generator MAnager) is a device which looks for excess generation from a renewable energy source and proportionally diverts it to a load. The best use of EMMA is for grid connected systems where it is expected that at times the generation from the renewable source will exceed the demand for power in the property. Normally this power would be exported to the grid but using EMMA this excess power would be diverted into a useful load, usually an immersion heater in a hot water tank.
Is it worth getting EMMA?
The best application for EMMA is when hot water is required on the premises and you would otherwise be heating the water with an inefficient/expensive source such as an oil boiler. This means you will reduce the cost of water heating. If you already have a tank and immersion heater installed, the EMMA installation is usually relatively straightforward. The system can be installed at the same time as your generator or can be retrofitted at a later date. For more details, get in touch with us and we will be happy to advise.
How much money will it save me?
This depends on how you use electricity in your property, your demand for hot water and how you would otherwise heat water. Here are a couple of scenarios:
For both scenarios assume a domestic 3.6kW Solar PV system is installed…
1)      In the house water is heated using an old, potentially inefficient oil boiler. There is a lot of hot water used in the house. Only a small amount of electricity is used for other things in the property during the day. In this scenario lots of energy that is generated by the solar panels will be spare (i.e. unused) and EMMA will send this 'spare' power to the immersion heater, saving on heating the water tank with oil which can be expensive. EMMA will lead to large savings!
2)      If you have a mains gas condensing boiler which is very efficient and don't use a lot of hot water  in the house (e.g. if you have electric showers and cold feed appliances) then there will be very little need for hot water. Also, if a lot of electricity is consumed in the house during the day there will only be a little 'spare' power for the EMMA to divert. EMMA will save less money than Scenario 1.
How do I get an EMMA installed?
If you are already having a renewable energy system installed by Solar and Wind Applications Ltd, just ask us about adding EMMA to your system and we will be happy to assist.
If you already have an installation, or are just thinking about an installation, just contact us.
01292 591 000
Or Request a Call Back: